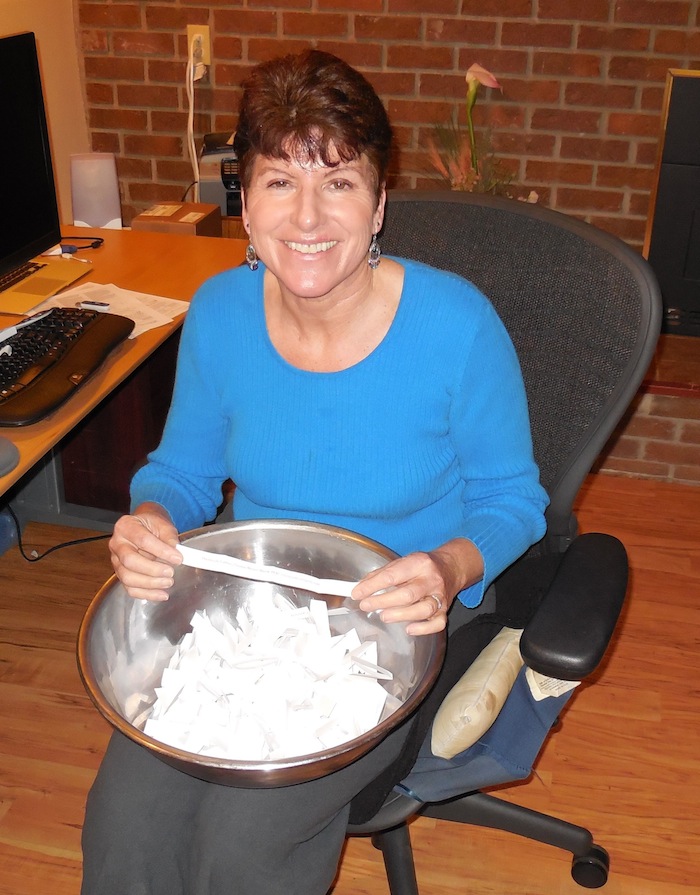 The hardest thing about contests is that I want everyone to win! This one was especially fun though, because I've never given away a trip to a conference before, and readers were excited about the grand prize. If you don't know the story about why, you can read it here, midpoint in the blog.
Before I announce the winners, a few details. Entries: 137 people entered the contest. Fewer than I expected, but it was New Year's Day, and a lot of people simply weren't online. (Or they were watching football!) Many more readers bought the book that day (yay!), but didn't bother to send the receipt.
The process: I copied and pasted names/email addresses into a Word document as the emails came in. Then I printed those pages, cut the entries into strips, and folded them. I dug out my giant salad bowl—usually reserved for family gatherings—put all the entries into it, and stirred them up.
The first name I drew was for the grand prize trip to Left Coast Crime. The lucky winner: Theresa de Valence!
My initial thought was to be quite happy. I met Theresa online six years ago. She was one of my first readers and supported me when I was a self-published author with only one book on the market. And she stayed loyal, reading everything I wrote over the years. My next thought was to worry that it might look bad for her to win because I knew her. Then I had to laugh. Because I know—from Facebook, Twitter, conferences, or emails—half of the people who entered the contest.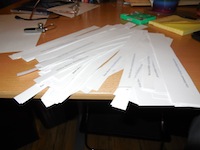 That's what I love most about this career. It has brought so many great people into my life!
Thank you all for making this gig the world's greatest job.
I also drew 10 more winners for gift certificates. I'll contact each of you personally, but here are the recipients:
John Lovell
Amy Kincade
Rose Mercer
Shirley Wetzel
Kim Ellis
River Fairchild
Halley Marton
Barbara Petty
Tim Feely
Sara Stradley
Thanks again for all your support! And for sending such delightful emails that share your enthusiasm for my books. Check back to my blog soon. I'm hosting a naming contest for my next Dallas book, and you have a good chance get your own name into the story.