Blogging My Way to Indie Success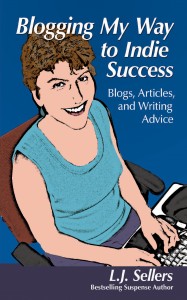 Back cover copy:
Inspired first by a layoff, then by fellow crime-fiction author Joe Konrath, award-winning journalist L.J. Sellers decided to put novel writing first with the goal of making a living from fiction. Along the way to her amazing success, she wrote numerous blogs about her goals, methods, writing process, and how she adapted to a changing industry.
In this book, she shares humorous personal essays, nonfiction features, and a host of blogs about her journey to become a full-time novelist. The book also includes a long chapter with writing, editing, and promotion advice, as well as detailed information about her writing process. The final chapter highlights features she wrote about amazing women in her hometown of Eugene, Oregon.
L.J. Sellers is an award-winning journalist and the author of the bestselling and highly praised Detective Jackson mysteries as well as three standalone thrillers. All eight of her novels have an average 4.5-star rating on Amazon.
Available as a $1.99 e-book and in trade print format.

Stories I've written for Dash (Fit, Fun & Fabulous!)
_____________________________________________________
Features I've written for The Big Thrill
Julie Compton's new release, Rescuing Olivia
Erin Hart's new release, False Mermaid
Hilary Davidson's new release, The Damage Done
Mary Burton's new release, Senseless
Leslie Tentler's new release, Midnight Caller
Lynn Sheen's new release, The Last Time I Saw Paris
David Hagberg's new release, Abyss