The Black Pill (A Jackson & Dallas Thriller; Jackson #15)

A bizarre murder, a missing woman, and a pack of online predators—can Jackson and Dallas stop the disturbing crime spree?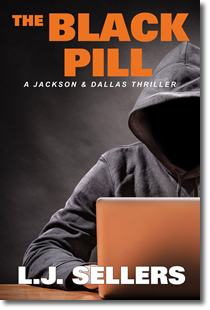 A body wrapped in plastic turns up in the middle of the road—with no ID and no viable explanation. The pressure builds when Detective Jackson must also locate a missing woman that few people seem to know. Fearing her life is in peril, Jackson resorts to following her ex-boyfriend, but the effort backfires in a deadly way.
Across the country, FBI Agent Jamie Dallas takes on a dangerous undercover assignment—tracking a sexual predator who brags about his assaults in a perverse dark-web forum. She travels to Jackson's hometown and soon discovers that her target's crimes are just the opening salvo. Yet confronting the hatemongers could get her killed.
The investigators race the clock to find the victims, but will they discover the connection in time to save all the women caught in the deviant trap?
Reviewers Say:
"Flawless pacing, fascinating characters, and a plot woven together with seamless complexity: The Black Pill is one of LJ Sellers' most masterful works."—Andrew Kaufman, bestselling thriller author
"This story is incredible!!!"—Alex Lundgren, reader
"It is sooooooo good!!! It's my favorite so far!"—Robyn Jones, reader
Author's Note: When I traveled to Costa Rica to visit my grandchildren, I ended up rescuing them from a dangerous cult and running through the jungle from armed men. The horrific conditions those kids were living under formed the characters' background in my new thriller, THE BLACK PILL.