The Lethal Effect (Thriller)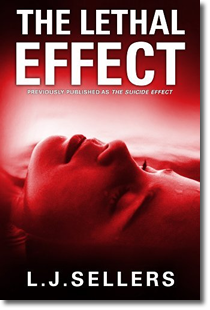 When Sula overhears a shocking revelation about a drug being developed by her employer, she's paralyzed with indecision. She desperately needs her job to gain the judge's favor in a custody hearing for her son. Yet hundreds of patient lives could be at stake.
Two days later when the drug's lead scientist disappears, Sula is compelled to search for the incriminating data. But Prolabs' CEO is a desperate man determined to stop her. Can Sula get the proof and expose the drug's fatal flaw before the CEO risks everything to silence her?
Readers say:
"Sellers has created an intriguing premise, a strong female protagonist, and a complex villain. Definitely worth reading."—Kari Wainwright, Amazon reviewer
"It took me less than 6 days to read through all 6 of Sellers books. I usually don't read through books that quickly unless they are that good (Evanovitch, Grafton, Connelly, Crais, Jance). I put this author right up there."—Kathy Harris, Amazon reviewer
"Putting the book down and going to bed at a reasonable hour was not possible. The Lethal Effect is highly satisfying."—Theresa De Valence, mystery reviewer