Thrilled to Death (Jackson Mystery/Thriller #3)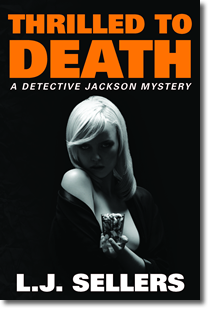 Monday morning, a young mother disappears after a doctor's appointment. Monday evening, a young socialite leaves a risqué lounge and never makes it home. Detective Jackson lands both cases, but at first he can't find signs of foul play. When the socialite turns up dead, his investigation uncovers her dirty secrets, which complicates everything.
The case runs into even bigger trouble with a suspect who hasn't left his house in a year. Jackson must push all the boundaries to find the connection and answer the question: Where is the other missing woman?
Reviewers say:
"Fast-paced, well-plotted, and with marvelous writing."—Crimespree magazine
"Ms. Sellers has a delightfully twisted mind and the talent to take her unsuspecting readers down trails that fork and bend back and curve and twist until at the end, you have a sense of satisfaction coupled with a pleasant mental exhaustion as your mind wanders back to how you got there… You are gonna love this one." —BookBitch.com
"Sellers knows how to wring as much tension as possible from her intricate, socially relevant plots, but it is her talent for creating intriguing characters that makes her suspense novels so memorable. In fact, she's so good that it's surprising she hasn't yet broken through into suspense super-stardom."—Mystery Scene magazine
"L. J. Sellers is a wonderful storyteller…There are plenty of twists and turns… The characters are well-developed and engaging. Readers new to the series can begin with Thrilled to Death and then go back to the other books in the series. It's a fast read. Perfect for summer reading. The first page will grab the reader's attention and from there, it's an exciting read all the way through to the final page."—OverMyDeadBody
"This one is every bit as exciting and suspenseful as her earlier books. Fast-paced, well-plotted and with terrific writing, the book is recommended."—Spinetingler magazine
"The Detective Jackson series rolls along with this exhilarating entry. The first sentence will draw you into the story and keep you guessing until the surprising ending. Jackson is emotionally involved in this case and fights to keep one step ahead of all the diversions in his path."—RT Book Reviews
Readers say:
"The Detective Jackson mystery series delivers yet again in Thrilled to Death, a truly chilling thriller with tricky plot twists and a surprising endgame."—Christine Sherk, RG book reviewer
"Thrilled to Death is so well written that I was forced to keep reading until I finished. If you haven't read any of L.J. Sellers books, you are missing out on a great reading experience."—Mystery lover, John Bohnert
"I received this book as part of Early Reviewers and loved it! The story is great, the characters are wonderful, and you just become part of the story. While at the time of reading this book I had not read any of the previous Detective Jackson Mysteries, it was not a problem. Based on reading this book I plan on going back and reading the previous books as well as this author's future writings." —Douglas, LibraryThing