Secrets to Die For (Jackson Mystery/Thriller #2)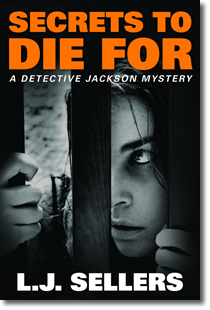 Social worker Raina Hughes visits the home of a young boy she's been assigned to monitor and things quickly turn ugly. Later, when she's found brutally murdered, Detective Jackson thinks it's an open-and-shut case against the boy's ex-con father.
Then new evidence points to an attacker who's becoming more violent with each assault. Raina's lover, Jamie, knows what the victims have in common, but won't tell for fear of revealing her own secrets. When Jamie disappears, Jackson must uncover the truth before anyone else dies.
Reviewers say:
"This is a well-plotted, suspenseful crime story that will keep readers on a rollercoaster ride."—OverMyDeadBody.com
"Another top notch outing from the author of THE SEX CLUB. Sellers manages to maintain suspense as well as treating a potentially salacious subject with dignity. Hopefully this series will continue. There is ample material and Sellers´ writing style is superb."—Bookbitch.com
"Secrets to Die For is a fascinating mystery that genre fans will relish."—Midwest Book Review
"I recently ripped through Secrets to Die For, the second in Eugene author L.J. Sellers' Detective Jackson series. It's the kind of fiction where the writing gets out of the way and allows you to read on autopilot until you figure out who did it. Maybe all mysteries are this way, but I had to stay up until 2 a.m. to finish it."—The Register Guard
"I couldn't put this book down until I reached the shocking ending! While writing a thrilling mystery, Ms Sellers' explores our attitudes toward some of the social issues we tend to turn a blind eye to." —Molly Weston, Meritorious Mysteries
"Sellers keeps the tension and suspense running high in her second novel about Detective Wade Jackson. As Wade is drawn into his newest case, he is also juggling personal life hurdles. Readers will thrive on the energy from this book and be impatient for the next.—RT Book Reviews
"Recommended!"—Spinetingler magazine
Readers say:
"I enjoyed the book immensely! Sellers provides edgy scenes throughout this compelling mystery, then twists the psychodrama even further in a very satisfying ending."—Susan Whitfield, author of The Logan Hunter mysteries
"L.J. Sellers writes with a fast-paced urgency. I got caught up in the story from page one, then could hardly wait to find out how it all wrapped up."—Dani Greer, The Blood-Red Pencil
"WOW! Secrets to Die For was fantastic—even better than the first. I was totally swept up and couldn't put it down!"
— Jackie Hefner, Pacific NW Publishing
"A thriller as dark and stormy as its Pacific Northwest setting."—Michelle Gagnon, author of Boneyard