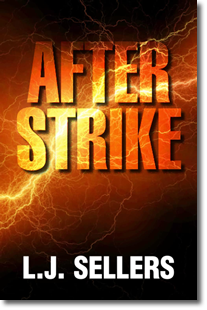 What if, without warning, you had to run for your life and leave everything behind?
Remi Bartell faces that terrifying moment and takes only the dog who saved her.
But as she starts her new life, lightning strikes! Remi briefly loses her memory and makes one small mistake—that costs her everything. The crime-family patriarch she's hiding from kidnaps her and plunges her into a revenge nightmare. The psychological trauma cracks open buried memories from her old life that will either save her or destroy her.
AfterStrike blends fast-paced action with psychological suspense and unexpected romance, then ends with an explosive twist  It also features Dallas, an adrenaline-junkie undercover FBI agent who never gives up.
"A sizzling must-read thriller! I absolutely loved this story!" —Midwest Book Review
"AfterStrike is a gripping thriller that keeps you guessing until the very last page. An L.J. Sellers masterpiece. Do not miss this one!" Gary Ponzo, thriller author
"The best thriller L.J. Sellers has written, and she's at the top of my must-read list." — Bestselling Author Teresa Burrell
Download AfterStrike now and see what everyone is raving about. Pre-order discount!