The Gauntlet Assassin (Thriller)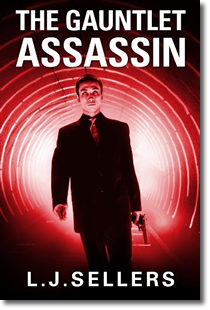 The year is 2023 and ex-detective Lara Evans is working as a freelance paramedic in a bleak new world. She responds to an emergency call and is nearly killed when a shooter flees the home. Inside she finds the federal employment commissioner wounded, but she's able to save his life.
The next day Lara leaves for the Gauntlet—a national competition of intense physical and mental challenges with high stakes for her home state. She spots the assailant lurking at the arena and soon after, she lands in deep trouble. Who is the mysterious killer and what is motivating him? Can Lara stop him, stay alive, and win the Gauntlet?
Author's note: This book was formerly titled The Arranger.
Reviewers say:
"The Gauntlet Assassin is another wonderful book by a writer you can always count on to deliver the goods."—Mystery Scene magazine
"L. J. Sellers is again in top storytelling form… with twists and turns you won't see coming."—OverMyDeadBody.com
"Another great read from one of my favorite authors." —Jack Quick, reviewing for Bookbitch.com
"L.J. Sellers weaves an intricate web of action, intrigue, and romance in this near-future thriller."—Scott Nicholson, bestselling author of Liquid Fear
"Sometimes I hate picking up a new book—when I discover that I have to fight with myself to put the book down, the times when I find I can't go back to work or can't go to sleep because the book has grabbed me and simply won't let me go. Such is the case with The Gauntlet Assassin, the new thriller from L.J. Sellers. I reviewed Sellers' writing earlier, calling her a 5-star indie author. The Gauntlet Assassin simply cements her 5-star status. The Gauntlet Assassin stars Lara Evans, a homicide detective in the "Detective Jackson" series, now retired and working as a freelance paramedic. The Gauntlet Assassin is different in every way from the Detective Jackson series, but it is as satisfying as any book in the series. The characters are well-formed and interesting. The story is compelling and believable. The writing is gripping and refused to let me go. The ending had a twist, one that I never expected. In The Gauntlet Assassin, Sellers has written a top-notch thriller. If you like thrillers, The Arranger is a 5-star-sure-to-please-can't-put-down read."—Richard Adin of The American Editor blog:
If you're a book blogger and would like to read and review this novel, contact me with your website link and whether you would prefer a mobi or epbub file.