The Target (Agent Dallas #2)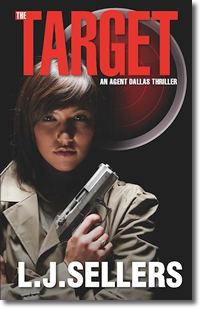 Agent Jamie Dallas loves undercover assignments that get her out of the Phoenix Bureau. But her new case is risky—an FBI agent is mysteriously dead, and a medical device company is targeting competitors with dangerous acts of sabotage.
Dallas infiltrates TecLife, spies on her new bosses, and tries to steal a sample of their mutant bacteria. But soon her life is in danger when she's caught in a battle between companies, each hoping to kill the competition while launching a billion-dollar blockbuster.
Meanwhile, a famous actor is found beaten and murdered in an abandoned cannery, and a young detective lands the case of a lifetime. Determined to bring justice to his favorite star, Detective Cortez follows a trail of evidence that leads to the medical-tech war—but he has no idea how deadly it is.
Can Dallas survive long enough to stop a researcher who's gone over the edge and save millions of consumers from getting caught in the crossfire?
Reviewers say:
"With her latest Agent Dallas outing, Ms. Sellers has once again hit it out of the park."—Bookbitch.com
"L.J. Sellers has written a high velocity, adrenaline rush of a thriller"—Suspense magazine
"What I loved so much about The Target was Jamie. Although Jamie is the clear star, L.J. Sellers created some truly memorable characters with great back stories. Agent Dallas could stand on her own as the story's protagonist, but with characters like Agent River she doesn't have to. The intertwining stories only enhance this story, allowing the reader to try to guess if the cases are related and how. As Jamie compiles more evidence and finds other crimes that link to this biotech war, the pace speeds up to match the urgency."—Readers Favorite
"The author expertly intertwines multiple story lines, presents readers with fully realized characters that readers will feel they know, and keeps the action and suspense levels high. That's a lot to expect from an author but L. J. Sellers delivers." —OverMyDeadBody