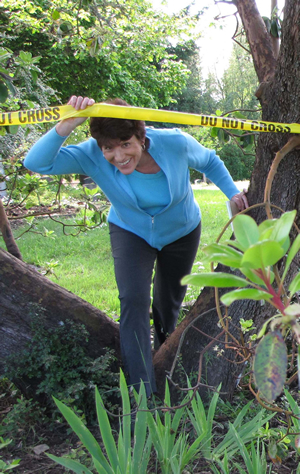 L.J. Sellers writes the bestselling Detective Jackson mystery/thriller series—a four-time winner of the Readers Favorite Awards.  She also pens the high-octane Agent Dallas series, The Extractor books, and provocative standalone thrillers. Her 28 novels have been highly praised by reviewers, and she's one of the highest-rated crime fiction authors on Amazon.
L.J. resides in Eugene, Oregon where many of her novels are set, and she's an award-winning journalist who earned the Grand Neal. When not plotting murders, she enjoys standup comedy, cycling, and zip-lining. She's also been known to jump out of airplanes.
Connect with me here:
Facebook,   Facebook Author page,   Jackson Junkies & Dallas Diehards FB page
Twitter
Google+
Goodreads
LibraryThing
Long Bio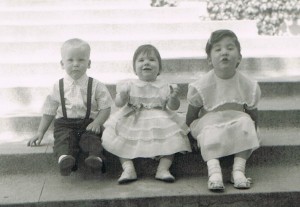 I was born in Santa Rosa, California—the third of six kids—but I've spent most of my life in Oregon. I grew up in Cave Junction, a small town in Southern Oregon. The day I turned 18, I packed my VW bug and moved to Eugene. Five years later, I graduated from the University of Oregon with a degree in journalism.
I've always loved to write. I was one of those nerdy kids in school who liked to write reports—about Peru, ocean life, pollution, whatever—I loved researching and writing about everything. I also wrote some fiction as a kid and some short stories in college, but never took it seriously then.
After graduating, I moved to Phoenix (needing a dose of sunshine). The country was in recession too, and I knew people in Eugene with journalism degrees who were flipping burgers, so I had to leave to find work in my field. My first career position was with Arizona Senior World, and I loved it. My favorite assignments were the people profiles—old people doing amazing things. (I hope to be one of those people in 40 years or so). I've also written several profiles for Oregon Quarterly as a freelancer.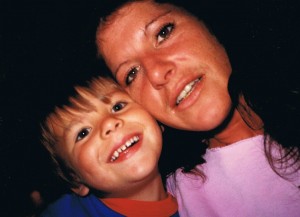 My stay in Phoenix was fairly short. I got married and had a baby, then felt compelled to move back to Eugene, Oregon where my family was. I've been here since, raising all kinds of kids and working full time, first as a food server, then as an writer/editor.
But one day long ago, I was reading a particularly bad novel and tossed it to the floor, thinking I could write a better story than that. I had never considered writing fiction until that moment, but I felt challenged to see if I could actually do it. On August 7, 1989, I sat down to write my first novel. I used a Commodore computer, and it took about three months. The story was called Personal Justice, and it was about a woman who tracks down the pedophile who murders her child. (Jeffrey Dahmer was in the news then.)
It wasn't a great story (because it lacked complexity) but I discovered I loved writing novels. I got absolutely hooked on the process and immediately started another. When I finished it, I sent the first three chapters to an agent, Al Zuckerman, president of Writers House. (What audacity!) Three months later he called me and said he couldn't sell that story but that I had talent and that I should send him an outline of what I was working on then. And incredible moment of validation. He eventually represented that book (now The Baby Thief), but didn't manage to sell it.
Still, his encouragement and faith is why I never gave up submitting my work, even though it took nearly 20 years to break through. (Lots of agents, novels, screenplays, close calls, and bad publishing experiences along the way.)
Meanwhile, I landed an editorial job at Pharmaceutical Executive magazine, where I learned more about drugs than I ever thought I would. It was a great job, and I learned to be an editor (as well as a writer). After seven years, they closed the Eugene office. While I looked for a new job, I wrote The Sex Club, the first in the Detective Jackson series.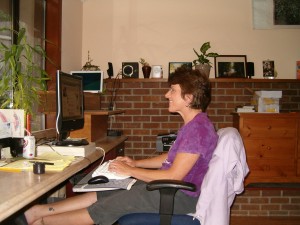 I feel very passionately about the subject matter, so it was a story I had to write, even knowing that it might never be published. At the time, I wasn't sure if the Jackson character would end up being a series, but I made him likable, so I could bring him back if needed.
Then I spent two and a half years with an educational publisher. During that time, my job used up all my mental energy, and I didn't write any new fiction. I discovered that I'm not really happy if I'm not writing a new story. But during that time, I self-published The Sex Club, which earned great reviews and reader support.
I was laid off again in March of 2008, one of the early casualties of the recession, and decided to make the most of the situation. I expanded my freelancing efforts, committed to putting my fiction career first, and finished writing Secrets to Die For, the second story featuring Detective Jackson. In October 2010, with four Jackson books and two standalones on the market, I quit freelancing to write full-time. In May 2012, Thomas & Mercer bought all nine of my backlist titles and two frontlist Jackson books. I now have twelve Jackson novels, five standalones, and three Agent Dallas stories featuring a young, female FBI agent who specializes in undercover work and infiltrating criminal groups.
Last year, I wrote three books in a new series about an ex-CIA agent called The Extractor, who rescues young people from oppressive situations. I also conducted my own real-life extraction in Costa Rica when I rescued my sick grandchildren from their mentally ill mother. I'm currently working on a movie script for that 18-day harrowing experience … and writing a new Jackson story.