The Sex Club (Jackson Mystery/Thriller#1)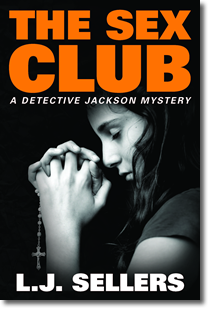 A pipe bomb explodes at a birth control clinic, then a young client turns up dead in a dumpster. Kera, the clinic nurse, discovers that the girl's Bible group is sharing more than the Good News. Confidentiality keeps her from telling the police, so she digs for the truth on her own—becoming the bomber's new target.
Meanwhile, Detective Jackson races to find the killer, fearing that his own daughter could be next. But his investigation is blocked by power politics at every step. Can Jackson uncover the killer's shocking identity in time to stop the slaughter?
Note to readers: This mystery/thriller features Detective Jackson, but I originally wrote it as a standalone thriller. Later, I decided to bring him back in a new story. Some readers may want to start the series with this novel. Others may find the content too provocative and should start the Jackson series with Secrets to Die For, the first book I wrote with the intention of creating a series.
Reviewers say:
"A thrilling, eye-opening read."—Mystery Scene magazine
"A dazzling debut!"—Aust Crime
"Sellers' first Detective Jackson book is an exciting ride into obsession and sex. Wade Jackson is the real deal, pursuing the investigation with the dogged determination readers expect from a veteran detective as two seemingly unconnected cases criss-cross each other in a high-stakes story guaranteed to tantalize."—RT Reviews
"The Sex Club is a great read. A well-crafted story with an unexpected ending. Extremely satisfying."—Theresa de Valence, mystery reviewer
"A well-plotted suspenseful tale with a pulse-pounding ending."—Midwest Book Review
"L.J. Sellers has written a fine debut mystery novel that explores religious fanaticism and its effects on the lives of various people. The characters are well developed, the plot plausible and well executed with an unexpected twist at the end. I look forward to reading more books by this talented author."—Lillian Porter, Bloodstained Book Review
Readers say:
"I thoroughly enjoyed this novel. The characters were compelling, the procedural work was dead-on, and the story was enthralling. Definitely recommended."—Michelle Gagnon, author of Boneyard
"The Sex Club is suspenseful, thought-provoking and very readable, with likable protagonists and villainous villains."—Carola Dunn (Daisy Dalrymple series)
"LJ Sellers expertly weaves together criminal intrigue, murder mystery, and human drama with biting social and political commentary. The Sex Club has got it all and you won't be able to put it down until the very last page."—Sibyl Shalo, amazon reader
The Sex Club fuses well-crafted storytelling with smart subtext—and keeps you guessing until the end. Sellers rewards her lucky reader with the best of both worlds: good old-fashioned, curl-up-in-a-chair mystery, and grown-up drama that weaves through socio-political themes as provocative as they are compelling."—Hannah Bontrager (former fiction editor, The Northwest Review)
"The Sex Club is a must read!"—Seattle Mystery Bookshop