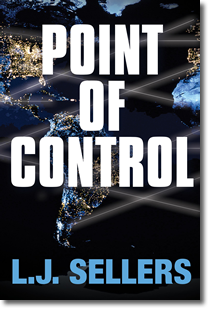 Two world-renowned scientists have disappeared, and FBI agent Andra Bailey is assigned to find them and hunt down the kidnapper. She's exactly the right person to get it done. In her personal life, Bailey works hard to control her sociopathic tendencies. But on the job, her cold logic comes in handy.
The agent soon suspects that a rare-metal shortage may be the link between the disappearances and that the motive is far more dangerous than she imagined. With the tech market in turmoil and prices sky-high, electronics companies and their power-hungry CEOs are ready to do anything—even kill—to keep production lines going.
When a third scientist disappears, Bailey throws caution aside to track the crimes to their source. But the clock is ticking on the scientist's life, and when the bureau pulls its support, Bailey is on her own to stop the meltdown.
Reviewers Say:
"With cutting-edge technology, nonstop action, and a wholly original character in Agent Bailey, L.J. Sellers' POINT OF CONTROL is a heart-pounding thriller that is smart as all get-out."—"— J. Carson Black, NY Times bestselling author
"L.J.Sellers outdoes herself in Point of Control, a nonstop action juggernaut that gives the reader a unique female protagonist and lots of real-life issues to think about. The book ranks right up there with the best of her excellent series novels." —Tim Hallinan, bestselling author of The Junior Bender and Poke Rafferty Mysteries