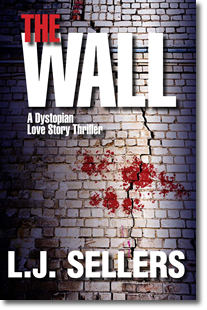 What if a cult became a nation/state and isolated itself…for 50 years? THE WALL is a gripping love-story thriller set in a brutal, secretive future.
Jayla's world shatters when her sister goes over the wall and is killed by Savages—but grief is just the beginning of her nightmare. When she cries in public, Enforcers drag her off to a brutal detention camp, where she begins to doubt the enclave. Yet between those moments, she meets Ronin, a kindred empath.
Ronin, a bodytaker, experiences his own awakening when he tinkers with his state-issued phone and receives a message from a stranger outside the wall. He also falls madly in love with Jayla—a woman of a different class whom he can never be with.
As their troubles escalate to a life-and-death crisis, so do the enclave's. Jayla and Ronin are determined to expose the deceitful authoritarian regime. But to free everyone, will they have to sacrifice their own lives?
Readers Say:
"THE WALL is unique, emotionally engaging, and impossible to put down.  A must-read!"—Jessica Park, bestselling YA-romance author
"The characters had me completely invested in their journey. L.J. Sellers is a fabulous author, and I highly recommend this story."—Gayle Carline, mystery & fantasy author
"The best story I've read all year!"
"L.J. Sellers best work yet. It left me shattered."
"I absolutely loved it"
Midwest Book Review:
The Wall is a YA dystopian romance thriller. If this feels like too many genres under one cover, it should be noted that L.J. Sellers pulls off the genre-busting effort with a satisfying attention to detail and description that embraces unexpected combinations of intrigue from its opening sentence: "Jayla pushed the knife out of her way and mixed a bucket of mortar. She couldn't do masonry with the blade against her chest, but she couldn't take off the sheath either. They were out there, watching and waiting."
Jayla is part of a separatist enclave that has isolated itself from the world outside. Marked by rigid structures and powerful Enforcers, her faith in the enclave's rules and realities is shaken when her sister is killed and she is arrested for displaying grief in public.
This is only the beginning of her journey as, when imprisoned, she meets Ronin, falls in love with a forbidden man of another class, and discovers that, together, they can make dents in the wall that has shaped their lives and belief systems.
L.J. Sellers creates a powerful story that moves between Jayla and Ronin's points of view and experiences. As Ronin is challenged with identifying phone messages which seem to come from an alien world and which lead him on the path of rebelling against and exposing the authoritarian rulers who dictate their lives, young adults will appreciate the social, political, and psychological insights as the story evolves.
Containing more intrigue than the usual love story, more love than the usual thriller, and more hope than the typical futuristic dystopian scenario, The Wall proves a satisfying and unique story that promises unexpected twists and turns, then delivers them with finesse.
Will Jayla spend the rest of her life in prison? How can Ronin love someone so different?
The story holds many inviting connections that will keep readers actively involved and on edge until the end, which fulfills its promise for Jayla, Ronin, and the world they influence.
Libraries looking for strong examples of thought-provoking leisure reads will find The Wall a fine choice, worthy not just of recommendation, but group discussion on topics of authoritarian settings and proactive individual choice.
". . . L.J. Sellers' novel bursts with energy and romance and I was rooting for Jayla and Ronin all the way. The authoritarian characters exude just the right amount of megalomania, and the setting is suitably oppressive for the story. The plot is tight and plays out through a fast-paced, exciting narrative.
The Wall has a wide range of appeal to readers of romance, fantastic fiction, thrillers and mysteries. Thoroughly enjoyable and highly recommended!"