Passions of the Dead (Jackson Mystery/Thriller #4)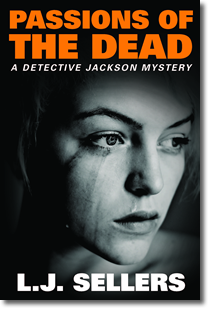 A working-class family is brutally attacked in their home and only one survives. Detective Jackson is assigned to investigate and soon uncovers a blackmail scheme. But the forensic evidence is confusing, and the girl who survives has no memory of the horrific event.
When another home invasion occurs, Jackson is confident they've nailed the perpetrators. Yet the case grows even more entangled. When the survivor disappears, Jackson fears for her life—but can he find her in time to save her?
Reviewers say:
"The author has again raised contemporary issues in a suspenseful tale of families and their complexities, examining the ramifications of a world struggling with financial uncertainty. Another winner from L.J. Sellers!" —CrimeSpree magazine
"Readers will love the next installment of Sellers' Detective Jackson series. As both professional and personal pressures converge on him, he begins the most puzzling case of his career. The twists and turns don't stop from beginning to end."—RT Reviews
"This is another outstanding effort from Sellers and sure to please any police procedural fan."—BookBitch.com
"Passions of the Dead will rivet you to the book from the first page. It's the first book by L.J. Sellers I've read but it won't be the last. She has an amazing story telling ability that keeps you reading long past your bedtime. It's hard to say a lot about this book without giving too much away. Just suffice it to say that it's a book you'll want to start reading when you know you'll have the time to finish it in one sitting."—Fresh Fiction

Readers say:
"L.J. Sellers takes a contemporary news theme and spins a thriller that puts you on the edge of your seat on page one, then keeps you there until the last sentence. Superb!"—Dani Greer, The Blood-Red Pencil
"The latest Detective Jackson mystery will keep you enthralled right up until Sellers hits you over the head with another shocking ending. Put Passions of the Dead on your reading list!—Susan Whitfield, author of the Logan Hunter mysteries