Dying for Justice (Jackson Mystery/Thriller #5)
A Readers Favorite Award Winner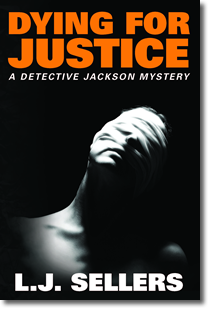 When Gina wakes up from a two-year coma, she realizes someone tried to kill her and make it look like suicide. Detective-in-training Lara Evans is assigned the case, but when she discovers who the main suspect is, she fears she's in way over her head. Meanwhile Detective Jackson learns the man in prison for murdering his parents is innocent of the crime and another officer coerced the detainee into a confession. As the two investigators work the cold files, members of their own department come under suspicion and their cases begin to overlap. Can they find the killers before the crimes of the past explode in the present?
Reviewers say:
"Dying for Justice is an amazing story! You're caught up in the story from the very first sentence. The characters are so real that it's like you know them. Every page brings something new and unexpected to the reader. Don't miss this one!"—Fresh Fiction
"Ms. Sellers' books just keep getting better and better, and accordingly this is her best one yet. Highly recommended."—Crimespree
"With each outing, Jackson gets better and better."—Bookbitch.com
"Every time I read a Detective Wade Jackson book, I say to myself, "Well she won't be able to write one better than this…" and each time I begin to read the newest book in the series, I know I was wrong. The author has written one that is better than the last!" Fans of police procedurals will find the blend of mystery with suspense to be just right. The author, an award-winning journalist, knows how to write."—OverMyDeadBody.com
"The author's expertise in creating deeply human characters is again much in evidence, together with a plot that keeps picking up speed as it hurtles to an ending that, quite literally, sent chills up and down my back and arms, and just as that was settling down, the ending had me again in goosebumps."—Spinetingler
Readers say:
"L.J.'s plots have more twists than some of those tornadoes that have been plaguing the Midwest lately…and DYING FOR JUSTICE is no exception. This book grabs you in the first paragraph and doesn't let go until the surprise ending."—Gina Gilmore, book reviewer
"I finished the book in two sittings, thanks in part to a fast paced narrative and intelligent multi-layered storyline, and was disappointed when it ended – simply due to the fact that I'll have to wait a while for the next title to come my way! Dying for Justice is a superb example of how to deliver a police procedural." Milo, BBC reviewer
"Dying For Justice is one of the best books that I have ever read. You are one of my favorite authors, but you really hit it out of the park with this one. I always love it when I can't figure out the ending of a book. It ended totally differently than I thought it would. It held my attention from the very first page."—Sheila, Facebook
"Absolutely loved the spider web that you wove telling this story!"—Cynthia Harris, journalist and beta reader