Wrongful Death (Jackson Mystery/Thriller #10)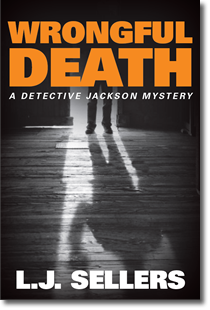 A Readers Favorite Winner!
When a police officer is found stabbed to death not far from the homeless camp where he was passing out blankets, Detective Jackson is called to the scene. Witness testimony quickly points to the twins, Jacob and Henry Walsh, longtime residents of the streets of Eugene. Yet there's no obvious motive, and other physical evidence is confusing.
At home, Jackson is dealing with a pregnant teenage daughter and fighting a court challenge for custody of the new toddler in his life. But as he and his task force dig into the slain officer's private life, they uncover a flaky new girlfriend and her jealous ex-boyfriend—both prime suspects.
Missing from the team is Detective Schakowski, the slain officer's cousin, who's been pulled from the emotionally charged murder to investigate the assault of a high school student, whose family was blackmailed with the video of the sex crime, resulting in the girl's suicide.
Meanwhile, Jackson's arrest of the twins leads the homeless community to stage demonstrations. As the tension mounts, the two cases begin to overlap, and the detectives fear that another young victim will fall prey.
Reviewers say:
"A suspenseful, page-turning novel. A terrific addition to the series, with a shocking resolution!"—Spinetingler magazine
Wrongful Death is a powerful, thought-provoking book and definitely a page-turner." —Mystery People magazine
——