The Trap (Agent Dallas #3)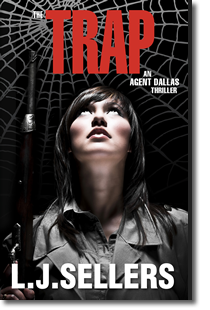 While skydiving with an adventure group, Dallas overhears plans to carry out criminal activity against a politician. Believing the group may have already committed murder, the bureau sends her to infiltrate the activists and gather evidence. But to earn their trust, Dallas makes dangerous compromises and ends up so deep undercover she can't make contact with the FBI.
Meanwhile, a DC detective investigates a homicide that looks like the brutal killing of a prostitute, but turns out to be something far more sinister.
When Dallas' support learns something shocking about one of the activists, they can't reach her with a warning. Blindly, they follow through with their takedown plans, hoping Dallas will survive.
Reviewers Say:
"Once again Sellers has woven a complex tale of suspense in which the plucky heroine, Agent Dallas is faced with treacherous conditions, no one to trust except herself, and to the reader, the very real feeling that Dallas may not get out of this assignment alive.
I can't think of another author who can sustain this level of suspense in novel after novel. I can barely turn the pages fast enough. This book will appeal to ardent fans of the series, of course, but readers new to the series will be equally as impressed with Ms. Sellers' writing and storytelling abilities."—OverMyDeadBody