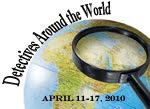 In my last post for Detectives Around the World, I present Sergeant Detective Emmanuel Cooper of South Africa. I met him in the novel A Beautiful Place to Die by Malla Nunn, set in the 1950s right after the apartheid laws were enacted. I read this book for a discussion group called 4 Mystery Addicts, and I thoroughly enjoyed it. Which doesn't happen that often for me (because my editor brain is always engaged).
Cooper is called to the small town of Jacob's Rest to investigate the murder of a white police captain, an Afrikaner (or Dutchman), who has been shot and pulled into the river. The victim seems well liked and respected, but the more Cooper questions the locals, the more he learns about the captain's dark side.
The issue of race runs deep and wide in this novel. The investigator (and author) see everyone first by their color or origin: white, black, coloured, native, kaffir, Afrikaner, and Zulu. Under the new laws, sex with someone of another race is punishable by jail, so these distinctions are important, an ultimately form the motivation for the crimes. Cooper is English and white, and noticing a person's color seemed intrinsic to his character.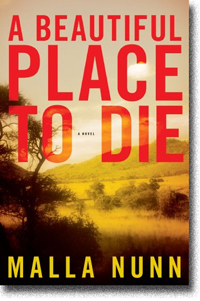 The novel is technically a police procedural, but it reads more like a traditional mystery because Cooper has no modern technology available. No fingerprints, no DNA, no crime scene photos. He asks questions and makes observations and ends up solving two mysteries. He almost gets killed a few times too. Intelligent and introspective, Cooper is an admirable character despite his tendency to quickly judge and label people. He's also courageously flippant with the Security Branch thugs who try to take over his case and turn it into a political move against communism. Like most detectives, Cooper is flawed, haunted by his past to the point that he doesn't sleep well.
And he talks out loud to himself. How could I not like him? (This is one of my family traits.)
The writing is smooth, evocative, and witty. Sometimes a little too witty as the author is prone to exaggeration as description, but overall nicely written. The book has also been nominated for an Edgar in the category of best novel.  I believe A Beautiful Place to Die is the first in a series, and I look forward to the next.
Have you read the book? What was your reaction to the predominant theme of race?