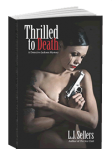 Today's my birthday and what better way to celebrate than to give something away? I have two advanced review copies of THRILLED TO DEATH, my third Detective Jackson novel, to offer. Here's the back cover copy:
Monday morning, a young mother disappears after a doctor's appointment. Monday evening, a young socialite leaves a risqué lounge and never makes it home. Detective Jackson lands both cases, but at first he can't find signs of foul play. When the socialite turns up dead, his investigation uncovers her dirty secrets, which complicates everything. The case runs into even bigger trouble with a suspect who hasn't left his house in a year. Jackson must push all the boundaries to find the connection and answer the question: Where is the other missing woman?
Click here to read an except of the first chapter. To win a copy, post a comment about:
birthdays
why you want this book (don't be afraid to flatter me ☺)
your best advice for staying cheerful in this down economy (don't be afraid to make me laugh, please ☺)
One winner will be randomly selected and one winner will be a personal selection based on comments. Please e-mail me too (just click and send) so I have your contact information. Happy July 4 weekend!
,LJ Sellers,ebooks,bestsellers,thrillers,kindle books,kindle series