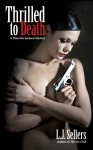 I have a big book launch weekend coming up, and I feel a little panicked. So I'm mapping it all out here just to feel like I have everything under control. I'm really looking forward to these events, and I hope you'll join me.
Friday morning: Get up 5 a.m. so I can workout and be at KUGN radio station by 7:30 a.m. I have a live interview scheduled with Storm Kennedy. We're going to talk about my Eugene events for the weekend and my coming feature article in Mystery Scene magazine's Fall issue.
Friday all day: Once I get home, I'm a guest on Barnes & Noble's Mystery Book Club Forum hosted by Becke Martin. You should see all the book covers and photos and excerpts she's put up. It's like a documentary about me…on steroids. I'll be responding to reader comments all day. Please stop in.
Saturday: I'm signing the first copies of THRILLED TO DEATH to hit the bookstores. Borders, at Oakway Center, is hosting me from 2–4:30 p.m. I've been busy designing new flyers and posters with my terrific new cover and great early reviews.I'll be giving away a copy of THE SEX CLUB too.
Sunday: I'm hosting my first ever book launch party. I've invited 100+ friends as well the public and the media. It will be held at Territorial Vineyards' bright and lovely wine tasting room (907 W. 3rd) from 2–6 p.m. I'm providing appetizers and giving away free books. I've been making lists of what to buy, what to bring, and what to expect. I still need to shop for a new black skirt.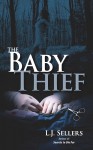 Monday: I'm launching another standalone thriller on Kindle. THE BABY THIEF—"A gripping tale about the dark side of fertility science" (Midwest Book Review)—will be $2.99 like all my other e-books. I'll host book giveway soon after.