Sorry I've been out of touch with blogging, but I've stepped up my novel-writing schedule. I finished Jackson #10 (Yay!), and it's now in the editing phase, with a release date of early March.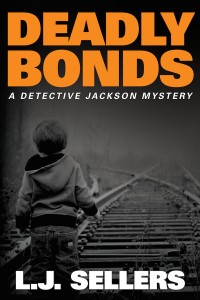 And, as odd as this sounds, I keep forgetting that Deadly Bonds (Jackson #9) hasn't released yet. It feels like I wrote the story ages ago! But my author copies arrived today, so release day is coming soon—August 26th!
I'm starting to get great reviews from NetGalley readers, so I'm excited to for readers to see this one. In fact, I'm giving away a couple copies today to my favorite commenters.  I'm also giving away 7 copies at Goodreads, and there's still time to enter.
I'm also getting beta reader feedback for Jackson #10, so I occasionally get mixed up about which story is under discussion. I also recently posted the first chapter of the new book on a Facebook page, and the first person who read the excerpt said it was a mild spoiler for Deadly Bonds. Oops! Again, I'd forgotten that readers haven't had access to it yet. I'll be glad when it's finally out there!
The good news is that the beta reader feedback on Jackson #10 is terrific, so I'm getting excited for everyone to read the new story too.
In between Jackson stories, I wrote The Target, Agent Dallas #2. That series is indie published so the book  is already on the market and selling well. But if you've read it and liked it, please leave me a good review on Amazon. The story features Agent Dallas and Agent River, so some male readers were put off by too many women, and another reader called it a "lifestyle" story, and I suspect he didn't care for River and her transgendered status. So I need you to help offset those negative reviews, if you have a minute.
Up next is Dallas #3. I'm in the plotting stage, but I hope to have the story completed and published before the end of the year. That was the goal I set last summer—by the end of 2014 to have written two more Jackson books (for a total of ten) and two more Dallas novels (to make a three-book set).
I think I'm going to pull it off. The only thing that could be a setback is having to sell our house, pack, and move. But the new house, and the lovely view of the Cascades should inspire me to make up the writing time.
Don't forget to leave a comment to enter to win a print copy of Deadly Bonds.