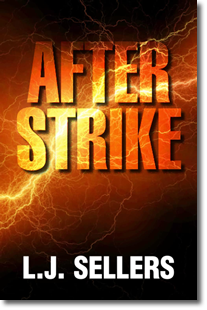 Hello again
Sorry it's been so long since I posted. The good news is that I have been writing! I've also been working part time to keep up with inflation and running my family-rescue service to keep loved ones from drowning, so I may not write my next Jackson story until this fall. But enough about me. It's my new book that matters! LOL
AFTERSTRIKE is a standalone thriller that features my favorite character—Agent Dallas. I didn't start with her in mind, but as I outlined, I realized I needed law enforcement. Who else is as flexible and exciting as Dallas? So she steps into the story about half-way and cranks up the heat.
The beta reader response to this book is by far the best I've ever received with comments such as "I absolutely LOVED it!" and "I couldn't stop reading." I hope you'll like it too.
The plot is founded on true events (news stories) that I couldn't stop thinking about. When I started bouncing the concepts together in my head, an amazing story came together. I'll blog more about the specific details as I get closer to the release date (May 10). By then, I hope many of you will have read it, reviewed it, and posted about it.
I need this book to be a success, and I can't do it without you!
Starting in March, I'm giving away ebooks on Goodreads and NetGalley. If you download one—and like the story—please leave a review or social media post anywhere or everywhere. I'd love to see this book get the attention and readership it deserves. Other things you can do to help promote is to mark "Want to read" on Goodreads and add it to your collection on any other book site you belong to.
Here's the short pitch:
Can a lightning strike survivor save herself from a predator she can't remember? Maybe . . . with a little help from Agent Dallas.
Thanks again for being faithful readers and making my writing journey so satisfying!
You can pre-order it at a discount price right now. Those orders help give the book visibility (via the algorithm). It will soon be available on B&N and Apple too, at least for a few months. 😊