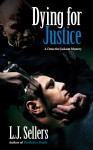 We've all thought about killing someone…at least for a second or two, and crime fiction novelists like myself get to act that out in novels. Now it's your turn. I'm giving away the opportunity to name the murder victim in the futuristic thriller I'm writing. (You expected someone  to die, didn't you?)
You can submit the name of someone you'd like to see dead, for example, that girl who rejected you in high school or the dentist you've come to hate. Or if your sense of humor includes seeing your own name attached to a corpse, then by all means, submit it instead. I'll simply pick my favorite. The winner also will receive a copy of Dying for Justice, my newest Jackson novel. And everyone who enters will win an e-book version of the same novel. Email me here with your preference for mobi or epub. I'll likely give away a second print copy too, because I can never limit myself to one.
The futuristic thriller will be released in September and features Detective Evans, a major POV character from Dying for Justice. The new story (working title: The Arranger) is set 13 years in the future when Lara is working as paramedic in a changed world. The murder victim is a young woman Lara Evans competes with in a national endurance competition. So submit female names please.
As background: In Dying for Justice, the book I'm giving away, Detective Evans investigates her first solo case, and readers get to know her in much more detail than in earlier Jackson books. Readers have raved about the story, giving it an average five-star rating on Amazon and it might be fun to read it before The Arranger comes out. (Seeing the protagonist now and in the future.)
Do you have any great victim names for me?