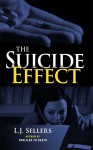 I'm finally retiring the weekly giveaway of a print version of THE SEX CLUB—after two years and lots of money spent at the post office. I sent copies as far as Portugal! Instead, I'm starting a weekly e-book giveaway of my new standalone thriller, THE SUICIDE EFFECT. You can enter today by simply e-mailing me with the words Win: The Suicide Effect in the subject line.
The giveaway will continue until my next standalone thriller, THE BABY THIEF, is released. Then I'll give the new one away for a while. Even if you don't win, they're both on Amazon for $2.99.
Here's the back cover copy for THE SUICIDE EFFECT.
When Sula overhears a shocking revelation about a drug being developed by her employer, she's paralyzed with indecision. She desperately needs her job to gain the judge's favor in a custody hearing for her son. Yet hundreds of patient lives could be at stake.
Two days later when the drug's lead scientist disappears, Sula is compelled to search for the incriminating data. But Prolabs' CEO is a desperate man determined to stop her. Can Sula get the proof and expose the drug's fatal flaw before the CEO risks everything to silence her?