CJ West and I both explore social issues in our novels, but often from different ends of the political spectrum. CJ is launching The End of Marking Time, a novel that follows Michael O'Connor as he pleads to a futuristic jury to spare his life. The book is a fascinating look at how the penal system might operate in the future. So we thought it would be fun (crazy) to hold a forum on capital punishment and our penal system. A homicide detective joins us anonymously and gives his perspective. 
Is our current penal system working? What should we do to make it better?
CJ: No. Recidivism is too high. Sending felons to prison protects us from them in the short term, but does little to combat the issues that brought them there in the first place. Our first failure in the system is the kid gloves approach we take to minor offenses. In many cases police officers identify offenders at a young age, but aren't armed with the tools to help. Later, when these offenders reach prison, the system provides neither punishment severe enough to force them to change nor the help to enc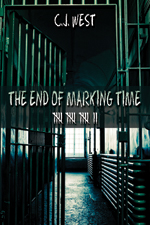 ourage them to embrace that change on their own.
The system itself has been perverted to such an extreme in Massachusetts that prisoners attack corrections officers, cause severe physical harm, then sue the state and win damages in cases where the corrections officers defend themselves. I have heard enough of these stories in my research to be angry that we aren't working harder to fix this problem.
The End of Marking Time depicts a two-tiered approach. The system is designed to lavish support on offenders in order to help them make a change. If it is determined they are unwilling or unable to make a change, they are executed.
LJ: What's wrong with our system is that it's too big. We incarcerate more people per capita than any other country and we build giant prisons to hold them. Studies have shown that the larger an institution is, the less effective it is. We throw potheads in with killers as though they deserved the same treatment. This makes no sense.
First, everyone who is in prison for the simple crime of possession of a drug should be pardoned and released and our possession laws should be abolished. Wanting to get high is not a felony. The massive amount of money saved by police departments, courts, and jails/prisons should be used to operate government-sponsored drug rehabilitation centers. People will argue that it's not government's job, but right now our government at every level spends massive resources to clean up after and house addicts, so why not spend it on prevention instead?
We should also build smaller prisons and separate violent offenders from nonviolent offenders. Offer more education, vocational training, and work release programs for nonviolent inmates who are near the end of their sentence or have short sentences. Offer rehabilitation for inmates with addiction issues. I know it sounds expensive, but with the reduced prison population, it should at least break even with what we spend now.
JL: (Johnny Law) I think you both make valid points. I will be the first to admit that the system as it currently functions lacks the individualized treatment that may make individual successes out of some of the current failures. The current penal system provides a literal breeding ground for hardened criminals to tune and hone their craft while they are inside. From what I have witnessed, the failure rate will continue unless something drastic is done to stop the rate of recidivism. The End of Marking Time approach sounds like the type of radical change that could work. I think there would be a significant initial wave of executions until the inmate population realized the rules had truly changed.
Is capital punishment an effective deterrent?
LJ: The way the system works now, capital punishment is not only not a deterrent but an expensive waste of public funds. We need to either fix the capital punishment system so that it's effective (e.g., limit appeals) or get rid of it altogether.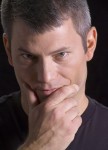 CJ: I believe respect for the law and the consequences of breaking the law are an effective deterrent in many cases. Locked doors keep honest people honest, as they say. Our knowledge of the law and the punishments associated with various transgressions do deter people in some cases, but by and large I don't believe the death penalty is an effective deterrent. The reason is that the death penalty is applied to only the most egregious crimes. Individuals likely to face the death penalty are often in situations where their lives are at imminent risk. The prospect of being executed after 10 years of appeals must seem distant to a gang member who fears being shot in a drive-by every single night he goes out to the corner.
JL: No offense, but that gang member doesn't fear being shot. I think the rules of the gang-banger are clear; the consequences immediate, and severe. We all seem to agree that capital punishment as it is currently imposed, does little or nothing to deter crime for criminals. They all know they are more likely to die of old age on death row than to be executed. Capital punishment consequences are conceived by rational thinking, consequence fearing people. The average inmate on death row in the American penal system is not cut from the same cloth.
Should our government have the right to take someone's life?
CJ: Most of us rely on the government for protection, but for the most part that protection is a fallacy. Our police react to crime. Any crime writer who has done some research understands this. Truth is, I could kill any resident in my town tomorrow and this cannot be prevented by the police except by my own incompetence, or sheer luck on the part of the victim or a passerby.
So if they can't prevent crime, what can the government do? The government must protect us from those who are willing to attack their neighbor. The most unfortunate part of our criminal justice system today is that the police know who these dangerous people are. They are often identified at a young age when the police begin reaching out to "at risk" youth who sell drugs, steal from convenience stores, or attack classmates. The problem with our current system is that rehabilitation efforts fall woefully short and many of these youth offenders graduate to progressively serious crimes.
I read in the paper today (May 10) about a young honor-roll student in Roxbury who was shot to death on a basketball court in broad daylight last Saturday. The police may never catch the person responsible, but you can bet they have already identified him as someone "at risk."
Executing felons that we are unable to reform is a loss, but the far greater tragedy is releasing sexual predators and murderers who reoffend. Government not only has a right to take the lives of those who cannot be rehabilitated, but it has the obligation to protect its citizens from these offenders once they have finally been caught.
LJ: I'm going to take that one step further and say that capital punishment is a collective form of self-defense. We not only need to protect citizens on the outside, we also need to protect inmate citizens from the most violent offenders. Inmates (already sentenced to life) who repeatedly assault other inmates or guards should be executed in a timely fashion. I know that sounds harsh, but we have to protect those who still have a chance at rehabilitation and productivity. We have to treat nonviolent inmates as if they matter, so they will value themselves and, in turn, society when they re-enter.
JL: I think a responsible government should have the right to take the life of someone the judicial system has proven to be guilty of their capital crime. I feel the only offenders who have demonstrated the ability to change their behavior through "treatment" or "programs" are juvenile offenders. I think we should direct our resources and energy to these offenders in hopes of saving them from themselves before they reach adulthood and graduate to more serious behavior. Timely government executions of adult capital offenders would be a deterrent for juvenile offenders.
What's wrong with life without parole?
CJ: During my interviews I learned that felons sentenced to life without the possibility of parole typically choose one of two directions. Some choose to serve out their sentences without causing trouble. There is an argument to be made that it is humane (though immensely costly) to allow them to live their natural life behind bars. The idea that we provide food and free medical care to felons while we are waiting for them to die seems absurd while others on the outside don't have these basic needs met. The other path some lifers take is to make it their mission to disrupt prison life at every possible turn. We have created an environment where life is dangerous for the corrections officers. It seems to me that we have gone too far to protect the guilty at the risk of the population at large.
Be sure to check out CJ's launch party for The End of Marking Time June 10th at facebook.com/cjwestfans.
What do you think of our current penal system and capital punishment?