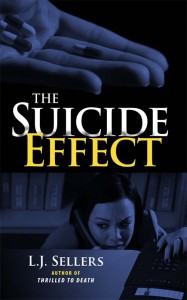 I finally took the plunge! Many traditionally published authors have self-published their backlist titles and/or unsold manuscripts as e-books, and now I've joined them in this exciting venture. Why not?
Before I started writing the Detective Jackson series, I wrote several standalone thrillers, both with medical themes. (I was a senior editor on a pharmaceutical magazine for years and medical information fascinates me!) I had a terrific agent for the stories, so I know they're marketable, and it's exciting to finally get them out for readers to enjoy.
The first, THE SUICIDE EFFECT, is on Kindle now for $2.99, but will soon be available as a print book, mostly through Amazon. Here's the back cover copy:
When Sula overhears a shocking revelation about a drug being developed by her employer, she's paralyzed with indecision. She desperately needs her job to gain the judge's favor in a custody hearing for her son. Yet hundreds of patient lives could be at stake.
Two days later when the drug's lead scientist disappears, Sula is compelled to search for the incriminating data. But Prolabs' CEO is a desperate man determined to stop her. Can Sula get the proof and expose the drug's fatal flaw before the CEO risks everything to silence her?
My early readers say this is a unique and compelling story with terrific characters. I hope you'll check it out.
Very shortly, I'll release a second thriller, THE BABY THIEF, a novel unlike any you've ever read. I'll have more details when the book is ready.
What you do think? Am I crazy to do this? Have you self-published e-books?