This is the second post in a series featuring exceptional women in Eugene.

As a student of English literature, Kathy Flynn never imagined she would one day carry a gun and conduct a traffic stop that would almost turn deadly. "When I was young, if anybody had told me I would be a police officer, I would have wondered what they were smoking," says Sergeant Kathy, who supervises the Eugene Police Department's violent crimes unit. It makes her laugh to think of it even now. Yet a series of decisions brought her to a career that occasionally puts her life on the line.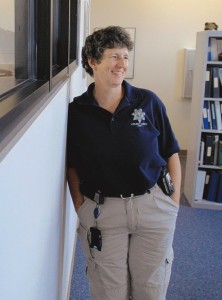 While still a patrol officer, Kathy stopped a driver at the request of another officer. After being pulled over, the driver became agitated and uncooperative. Kathy went back to her car to run a background check while the second officer tried to calm the detainee. When she looked up, the situation had escalated. "The officer shouted, 'Show me your hands!' " Kathy recalls. "Then I saw the other officer had his gun out and was pointing it through the window. Then I saw the man leaning over and he was getting something. We both thought he was going for a gun. So I drew mine. The man came up and he had something in his hand."
Kathy ran for the vehicle, gun drawn.
"Then he punched his hand out the window," Kathy says, gesturing with surprising force. "I had pressure on the trigger, but I didn't have a shot. And it's a good thing, because what the guy had in his hand was a tape recorder."
The incident took place on 13th and Kincaid with University of Oregon students everywhere, and Kathy couldn't risk injuring a bystander. The man was given a ticket and let go. Apparently there's no law against scaring the heck out of police officers.
Kathy's levelheadedness and decision-making skills have served her well in her 22 years with the Eugene Police Department. But it wasn't a career she had planned on. Fresh out of college with bachelor's degrees in English literature and sociology, she worked first as a horse trainer, then eventually as a banker in Ashland. On a whim and needing to shake up her life, Kathy moved to Eugene and applied for a job as a communications specialist.
"I thought, 'Well shoot, I can communicate,'" she says, laughing at her naiveté. "I had no idea what it was." The "communications" job actually entailed working as a 911 dispatcher. Kathy made it through the exhaustive screening process and worked as a dispatcher for two and a half years. Then one evening during a ride-along in a patrol car, an officer encouraged her to apply for a police position.
"Again, I thought, 'Why not?'" she says. It's unusual to start a career in law enforcement in your 30s, but Kathy has never let cultural expectations get in her way. Even as a child, she refused to accept that girls couldn't be crossing guards or sell TV guide subscriptions. "From the time I was little I didn't understand why people were telling me I couldn't do things because I was a girl." Now as a police sergeant, Kathy supervises a team of eight male detectives. She says gender is not currently an issue for her, but it wasn't always the case.
"That was a pretty crusty crowd back then," Kathy says, referring to her initial training with the violet crimes unit in 1988. "Violent crimes (units) tend to have people with strong personalities because of the nature of the work."
Kathy spent half her police career working patrol, much of it as a sergeant, and half in detective work. "I love both," she says. "They're both awesome." During her two decades in the department, Kathy has been assigned to traffic control, the university station, schools and violent crimes. Her diverse experience has fostered understanding of, and rapport with, an entire network that includes child services, the district attorney's office, patrol and probation, sexual assault services, and others.
She believes that background helped her earn her current position, which she calls "the best job in the department." "It's very beneficial to have that bigger view of the community and understand the system in all its complexity," Kathy says.
L.J. adds: Kathy is one of the detectives I meet with regularly for research for my novels, and I have come to admire her quiet courage and integrity.