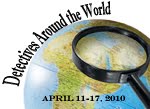 Kristin van Dijk, aka Baby Shark, is unlike any private investigator you've ever met. A young woman in a male-dominated, 1950s rural Texas setting, she's a pool hustler and highly trained fighter/gunslinger. What she lacks in experience, she makes up for in nerve. Raped, beaten, and left for dead at the age of 17, Kristin remakes herself in a quest for vengeance. Tracking the men who attacked her, she learns the basics of PI work and takes on one tough case after another. Today, Baby Shark slows down long enough to answer a few personal questions in this exclusive interview.
Revenge and justice became the focus of your life in the first book. Once you got the justice you wanted, did you feel lost for a while? How did you move on to become a private investigator?
After I finished my business with Blue Eyes, I spent some time nursing my dog Jim back to health. He's a smart boy and understood he needed to take it easy. We took slow walks together, than faster walks, and finally we were able to run the four miles to the old well and back, but that took several months. The local rabbits were sorry to see him back in shape. During that same time, Otis and Henry had to meet with law enforcement and some legal beagles about the shooting that took Mac's life. We all waited for the other shoe to drop after Logan Belmont was told one of his sons killed the other and then disappeared. A man with his power and money stirred up a lot of dust that took a while to settle. I was never a part of any of that commotion even though it could be argued that I was really at the heart of the matter. "The dog don't always bark at the right guy," Otis told me. I took his meaning, stayed in the background, and kept my head shut.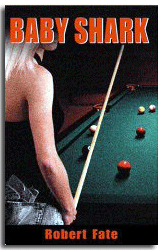 Soon after that, when Otis asked me to join him at the Millett Agency, he said I was cut out for the work. I thought I'd just be a flunky, but he said, no, he wanted me as a full partner. That made me laugh, of course, because I knew the State would never give me a license. However, by the summer I turned twenty, I'd become his full partner. It spoke of the allies Otis had in the right places that he was able to swing a P.I. license for me. Forget my age, it was being female that made the task near impossible. "I don't cotton to the notion of a girl carryin' a gun legal-like," one official told Otis. "Who the blasted heck knows what she might do with it?"
Looking back, you'd have to admit that official was just plain insightful.
And just a note about Otis and the way he treated me from the beginning––the Millett Agency was painted in black letters on the frosted glass door of our office. When I became Otis's partner, he removed the two words that had been lower on the glass. Otis felt that Suspicions Verified conjured up lascivious acts that would be inappropriate now that he had a female partner. I appreciated his sensitivity and was glad to see the words go, but for a different reason. I thought they narrowed our expertise. Exposing infidelity might make up the larger portion of our business, but it hardly described everything we did.
You carry guns and knives and you don't seem to hesitate to hurt or kill people. Do you have a moral code you live by? How do you decide who gets his ass kicked and who "needs killing"?
Back a while, Otis and I had a shootout with some gangsters from Beaumont that had come up to Fort Worth to make mischief. We ended up killing several men to save the life of a man they had kidnapped and were planning to murder. It was a bloodbath that gave me pause and when I told Otis that I was unsure about how I should feel about doing so much killing, he said, "Don't worry about all that, Missy. They shot first." "Still," I said. "We've killed four men tonight, Otis." And he said, "You pay with blood to learn the ropes of war, Missy. It's made us hard, that's true. But we ain't killed nobody who didn't come out here set on killing us."
You could say that his approach is simple, but I did come to grips with the fact that we never set out to kill anyone. The fact is, we're in a line of work that confronts violence and we sometimes have to respond with violence to save the lives of innocent victims. We are not the police, but you could say our jobs are similar to theirs. In reference to who "needs killing," just give that a moment's thought and you'll have your answer.
To respond to your question on a personal level––not as a private investigator––I would say this: After being beaten, abused, and left for dead by a gang of thugs, I had the opportunity to deny that it happened, whine about it, hide from life, snuggle up to someone big and strong and beg for protection, or learn how to protect myself. I made a decision to make every future fight a fight to the death––you start it with me, it ends with me. I pledged that I would never be afraid again. I swore that I would never allow myself to be abused again. You have nothing to fear from me unless you mean me harm.
You're a young, blond, attractive woman, yet you rarely use your femininity to your advantage. Why not? Will that change?
In Texas in the 1950s all women were girls. "How can I help you, little lady?" was a common question asked of women. Because it was assumed they needed help, since they were so frail and clueless and incapable of doing anything for themselves.
I don't have to "use" my femininity; just being female does the trick. My advantage is men thinking they have the advantage. It is often that one step, that one move, that split second that has saved my life in the nastier confrontations. The secret is not hesitating when the advantage is presented.
Readers are fickle. They say they want characters to evolve, then complain when they do. One reader commented in your last outing that you're getting soft. Is it true? And do you care?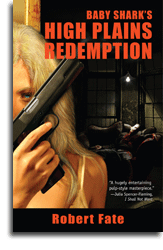 I would like to think that I have less to prove, as I grow older, and that I am less afraid of commitment. I don't know if Lee and I can make a go of it, given all the obstacles our jobs present, but if learning to love is getting soft––well, I'll admit to that happening. I still run five to ten miles a day (most days), still target practice at Henry's (I can plug a bad guy's eye out at 25 yards), still practice the moves Sarge taught me all those years ago, and as recently as a couple of months ago held my own in a pool hall brawl. "Never seen a girl handle herself as good as you," one old-timer commented, as he watched the bodies being carried out on stretchers.
On a lighter note, you love steak and Dr. Pepper, two of my favorites! What other personal details are you willing to share with readers that don't come up in the stories?
Otis and I seldom miss the Friday night fights and we place bets with Reggie 'Sidecar' Sanchez––never very much, but you'd have to say we're regular betters. Our side bet is always who picks up the check at Sylvia's Steaks where we go after. Here's what I had to say about the fights a while back:
I can't remember ever seeing the ceiling at the old Civic Auditorium. Though I was sure it was up there somewhere beyond the tobacco smoke and steaming lights and blaring speakers that formed the canopy above the square of canvas where the fights happened on Friday nights.
The scents and sounds made the place exciting. Besides the sluggers, it was the crush of fans milling about that guaranteed the fights were a spectacle. The men were of all ages, but mostly Otis' generation. They spoke loudly and didn't care who heard them. They wore suits and ties and hats, smoked long cigars, and came from every walk of life, rich and poor, with one thing in common: love of the sweet science.
The women were outnumbered and reveled in it. They were fearless dames who had been up the street and back, held their perfect hairdos high, and would look you right in the eye while you studied their exaggerated makeup. They strutted about to be noticed in their colorful fitted dresses, sheer nylons, and spiked heels. And, believe me, they were noticed. A jealous man would have been reduced to suicide in the face of the numberless rude whistles and crude sounds and comments thick with overtone.
Do you have a favorite non-violent PI case you'd like to share that we're not likely to read about?
There was a tricky piece of business that was started by a woman who told us she believed her husband was having an affair with her sister. The husband owned a successful chain of dry cleaning establishments, worked long hours, and was often away from home till late at night. There were no children. The wife hired The Millett Agency to put some surveillance on the sister and her husband, a case that got Otis busy in one part of town and me busy in another until after a few days they came together at the same motel in yet another part of town. We took pictures of the suspected lovers arriving at the motel and Otis paid for a look at the register to confirm they had gone to the same room. Later we planned to tail them to their respective homes to complete the evening, but we stumbled onto something we hadn't expected that sent us in another direction altogether. It got complicated, but what we learned by turning our investigation inward just a bit was the women weren't sisters at all, but partners in a scheme to take the businessman for all his money––a con they'd used successfully before up in Wichita. The Millett Agency was supposed to help them with their game, but instead we assisted in sending the women to prison. The husband got himself a Philadelphia lawyer and sued us, of course. We were eight months getting that mess untangled. It would have been easier for us to have turned over the pictures and gotten out of the way, but that wouldn't have been right, would it?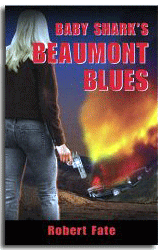 You don't seem like the settle down and get married type. How do see yourself in the future—beyond the Baby Shark novels? What will your life be like when you're fifty?
You haven't followed my life as closely as you should if you think I'll reach the age of fifty—thirty will be a stretch. Nice talking with you. Look me up when you get down my way.
Best regards, Kristin
If they make a movie of this series, who do you think should play Kristin?
The Baby Shark series is written by Robert Fate, and I'll post more about him on Wednesday.
Here's a link to a post with all the other Detectives Around the World blogs.