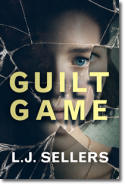 Guilt Game, the first book in The Extractor series, is finally here! I'm pleased to report that the response to it has been great. Rox, the protagonist, is an ex-CIA agent working as a private investigator—specializing in rescuing people from oppressive situations. Readers seem to like her non-typical brain chemistry and empathize with her desire to try an unusual treatment to see if she can open up her world.
As I wrote the opening scene, I realized she needed a partner, and Marty, her stepdad, popped into my head. He's quite lovable, and they have a great relationship. Marty also gives me an opportunity to include a little humor in my otherwise gritty stories. Here's the link to the book on Amazon: https://www.amazon.com/Guilt-Game-Extractor-L-J-Sellers-ebook/dp/B01MQ5ZI6N
I've also finished the second book, Broken Boys, so I feel like it's okay to finally call The Extractor a series. I hope to release the new book soon, depending on what my publisher decides. I'll post the cover (and pre-order link) soon.
Meanwhile, here's the back cover copy for Guilt Game:
Roxanne MacFarlane is the Extractor—a former CIA agent who specializes in rescuing people from dangerous situations. She lives on the edge and works outside the law, but desperate families know she's the only operative who can bring their missing loved ones home. Driven by guilt over the loss of her sister to a polygamous cult, she will stop at nothing to save her clients.
When Dave and Jenny Carson ask her to find their daughter, Emma, and extract her from a charismatic cult leader who preys on young women with guilt issues, Rox is eager to help them. But the experimental treatment she just started in order to improve her atypical brain patterns forces her to face conflicting newfound emotions while working feverishly to find the secret compound and craft a strategy to get Emma out.
When the bodies of young women who match Emma's description turn up, Rox must fast-forward her plans. But the situation is more complicated and dangerous than she realizes, and her own life is soon in jeopardy. Can Rox save Emma and bring down a ruthless predator before more young women fall victim?
And here's what I have for Broken Boys... so far:
Roxanne MacFarlane is the Extractor, a former CIA agent rescues young people from dangerous situations. When she's asked to find a correctional wilderness camp and bring home a troubled teenage boy named Josh, she's skeptical—about the father who wants his son back and her own ability to conduct a successful mission.
Then another boy turns up missing, and she realizes the bootcamp and its owner could be deadly. Determined to find and rescue both teenagers, Rox works round the clock to locate the wilderness camp. But someone tips off the program, making her job nearly impossible. When Josh's mother is murdered, Rox realizes the boys may know a dark secret and are on borrowed time. But can she find the base camp and extract the kids before the assailant moves in to silence them?