Laura Miller, founder of Salon, asks: "How do you find something good to read in a brave new self-published world?" She writes about the horrors of the slush pile and wonders how readers will fare if traditional publishers stop functioning as gatekeepers. She points out that gatekeepers are necessary to steer readers away from the "all the dreck." Bloggers—who read and review a much wider variety of books than Library Journal or Publishers Weekly—are already doing this to a certain degree. Book clubs and list servs are other forums where readers share their discoveries even if the novels aren't published by one of the Big Six.
Gatekeeper is no longer even the right term. The floodgates of self-publishing have been open for years. In the future Miller imagines, when most books are self-published, what readers may seek instead is a seal of approval or at least a threshold of acceptability. Readers and writers will look for screening services that guarantees a list of books that meet minimum standards of readability.
No one in their right mind reads slush for free, and it seems safe to assume that many authors will be willing, if not eager, to pay to have their book screened with the hope that it will be branded with a seal of approval. Even now Kirkus Reviews, for example, offers a service called Kirkus Discoveries. The website says, "The Kirkus Discoveries program gives independently published authors a chance to obtain an unbiased, professional review of their work, written in the same format as a traditional Kirkus review"—for only $425. Many in the industry are scornful of the service because everyone who pays gets a review.
But if a book-screening service did not guarantee approval or review—just offered an unbiased thumbs up or thumbs down of the novel—would indie authors pay for a chance at approval? Would readers seek out the website to discover new authors?
We'll soon find out. An author I know has launched such a service at IndieProse.com, with a screening fee of $50. The site says, "Our reviewers will evaluate the professionalism of your cover including images and typesetting. Interior layout will be evaluated and the book will be read for typographical errors, grammatical errors, word use, and writing style. If the work passes all of these tests, it will be read for impact."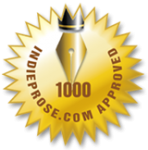 If the book meets both the professionalism criteria and is considered "compelling" by a reviewer, it is given the IndieProse seal of approval. The author then pays an additional $100 fee to be listed on the Indieprose site and to have a review of his/her book posted on Amazon.com, Barnes & Noble, and GoodReads. Authors who don't pass the screening receive a letter explaining why. (That's a step in the right direction!)
I think it's an innovative concept, and I agreed to be the first author to submit a book for screening, even though I'm not self-published. (My small publisher is certainly an indie press though.) I'm relieved to report my novel passed.
In the future, as more books are independently published in a variety of ways, I suspect more such gatekeepers will arise to read the indie slush pile and hand pick the best of the offerings.
What do you think? Authors: Would you use this service?
Readers: Would you visit such a website to discover new authors?