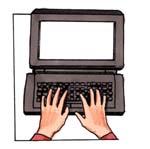 My editor is tired of my use of the words moved and stepped, so she sent a list of alternatives and I keep adding to it. I keep this list handy when I'm working on a novel, and my writing tip today is to share this lovely list with you.
strode, walked, lurched, ran, scurried, bustled, rushed, barreled, hustled, jogged, zipped, trotted, stumbled, breezed, sashayed, dashed, waltzed, bolted, hastened, entered, climbed, padded, shuffled, crept, skulked, slid, slipped, snaked, cowered, crawled, tiptoed, prowled, shifted, rolled, eased, lumbered, ambled
Do you have others? Please share.