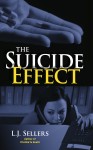 Last October I reduced the price of the first e-book in my Jackson series to $.99 to draw readers in. It was the best move I ever made. Now I've dropped the price of The Suicide Effect, a standalone thriller, to draw in new readers who focus more on suspense or thrillers than on mystery/police procedural. It's been 24 hours, but the effect is evident.
I sometimes worry about readers' perception and don't want to be thought of as a discount author, but so many big publishers are offering bestselling author's e-books at the 99-cent price, I think it's becoming rather mainstream.
Here's the back cover copy for The Suicide Effect:
When Sula overhears a shocking revelation about a drug being developed by her employer, she's paralyzed with indecision. She desperately needs her job to gain the judge's favor in a custody hearing for her son. Yet hundreds of patient lives could be at stake. Two days later when the drug's lead scientist disappears, Sula is compelled to search for the incriminating data. But Prolabs' CEO is a desperate man determined to stop her. Can Sula get the proof and expose the drug's fatal flaw before the CEO risks everything to silence her?
I wrote this novel while I was a senior editor for a pharmaceutical magazine. For less than a dollar, why not check it out?
Authors: What is your pricing strategy?
Readers: Does the 99-cent price tag make you question the value of the novel?