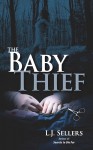 My second standalone thriller is now on Kindle and I'm celebrating by giving away some e-books. THE BABY THIEF is a unique and complex story in which fertility science collides with an isolated cult when two different women decide to have a child.
Enter to win one of five free copies by e-mailing me with "Win The Baby Thief" in the subject line. The e-books are available in epub and mobi formats.
Here's the back cover copy.
Jenna visits a fertility clinic, hoping to be artificially inseminated, but the clinic doctor takes one look at her patient and makes other plans. The doctor and her lover conspire to kidnap Jenna and steal one of her eggs—a simple procedure that the "donor" should no have memory of. Yet from the beginning, things go terribly wrong.
"A powerful, highly recommended, and cautionary tale about the dark side of fertility science."
—Midwest Book Review
"This is an excellent piece of suspense work…a pulse pounding, thrill ride, can't put down, page-turner of a novel."—Readersviewpoint.com