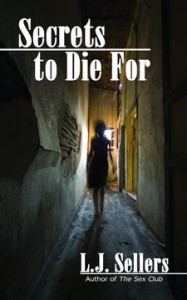 I've had so much great feedback on SECRETS TO DIE FOR I've decided to give away a few more copies. This time you have to earn it by coming up with a great name for one of the characters in my next novel, which I've just started outlining. Here's what I know about the characters so far:
Female paramedic (and ex-cop) in her late 40s. Twice divorced and currently content to be single. Slightly jaded, straight talker who mentors young women who come out of correctional institutions.
Male bureaucrat, early 30s, bachelor by choice, but not necessarily liking it anymore. A list-maker and number-cruncher who finds a way to work the system to his great financial advantage and becomes corrupted by it.
Did I mention this story is set in the future?
Post your first name/last name suggestions (or e-mail me if you prefer).  I'll pick my favorite name for each character and send you a copy of SECRETS TO DIE FOR.  Knowing me, I'll send extra copies to people who submit names I get a kick out of but can't use. Past examples: Randy Cockburn (for a strip club owner) and Stig Bloodgutter (for a kidnapper).  Howlingly good fun!