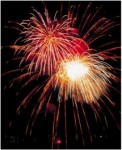 I always love the fresh start of the New Year, but this one is special. Next year will be the first time I live my life as a full-time novelist. I'm finally making enough from book sales to turn down freelance work. At this point, the most cost-effective way to spend my time is to write another Detective Jackson novel. I've been working toward this goal since August 7, 1989.
Still, I'm not the type to coast along, so I have New Year's resolutions and goals as always. My first resolution is to read more. Now that I'm not doing fiction evaluations or edits, I hope to regain my pleasure in reading fiction. (I lost it for a while when I began to associate reading fiction with hard work.) I have a target goal of a book a week, but I won't beat myself up for not sticking to it.
My career goal is to publish two more Jackson stories next year. I'm making great progress on the fifth Jackson story, Dying for Justice, with a target publishing date of April. That leaves me eight months to outline, write, edit, and publish Jackson #6. No problem.
I also hope to write most of a third novel as well. It's a standalone futuristic thriller that I've already outlined and will publish in early 2012.
One personal resolution is to make an effort to reach out to people who connected with me on Facebook and CrimeSpace when I was first starting out. I appreciate their support and I want to take time to express that.
Financially, I plan to start saving a little money every month so I can spend next Christmas someplace warm. I haven't had a real vacation since our layoffs in 2008.
I will also start donating more to charities again. We've been struggling since early 2008 and haven't been unable to donate much. We're starting this Christmas with a check to i.HUG, a charity in Uganda started by my friend Joanna.
Most important, I will not take my current success for granted. I plan to treat it as a fragile thing that needs constant attention and support. That means I'll continue to give away books, read and post on blogs, write guest blogs, communicate with readers in forums, participate in book discussions, and attend conferences when I can.
I'll also help others along the way and pay it forward at every opportunity.
What are your New Year's goals and/or resolutions?