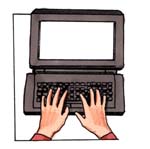 Crime writers and readers have been discussing the proper etiquette for collecting e-mail addresses for a newsletter or new-release announcement. Some readers are quick to say that any unsolicited communication is spam and will turn them away from a writer forever. Ouch!
Other readers say if they have met or exchanged emails with the author, then they don't mind receiving a newsletter down the road. Especially if the newsletter contains a "click and unsubscribe" feature.
In an ideal world, all such email lists would be acquired through an opt-in process on your website or blog. But few writers live in a world where hundreds of adoring fans visit their site daily and everyone is eager to sign up for the writers' monthly update about their scintillating life/career.
I get the sense that most novelists accumulate email addresses through a mix of listserv responses, blog comments, and direct emails from readers/writers.  Unfortunately, some overeager fools buy address lists and spam strangers, thus tainting "new release" communications from all authors.
This is a timely discussion for me because I recently set up an account at Vertical Response with about 500 emails, with the intention of sending out a brief communication about my new release, something along the lines of:  "You once expressed interest in me or my work, so I thought you might like to know I have a new novel coming out."
I will follow that with a brief mention of how infrequently I expect to send such announcements (once or twice a year) and how readers can opt-out of the list if they choose. It will be interesting to see how many of the readers/writers/friends who contacted me first will choose not to receive my annual announcement.
Readers: What do you think? If you send an email to an author, will you be offended if she puts you on her newsletter list?
Writers: What are your guidelines for building emails lists? Are you strictly opt-in or do you get creative?