I met Marva at a book fair and critiqued a few chapters of her fantasy novel. The writing was terrific, the story was engaging, and if I had been a YA fantasy publisher, I would have bought it. I've since read several of her novels, and I'm happy to recommend them. Now Marva has turned to writing mysteries, and I'm pleased to introduce her new e-book, Missing, Assumed Dead, a fast-paced engaging story.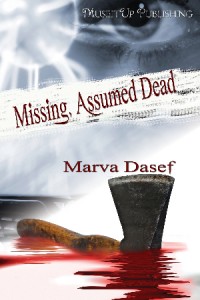 Here's the description:
When Kameron McBride receives notice she's the last living relative of a missing man she's never even heard of, the last thing she wants to do is head to some half-baked Oregon town to settle his affairs. But since she's the only one available, she grudgingly agrees.
En route, she runs afoul of a couple of hillbillies and their pickup in an accident that doesn't seem…accidental. Especially when they keep showing up wherever she goes. Lucky for her, gorgeous Deputy Mitch Caldwell lends her a hand, among other things. Her suspicions increase when the probate judge tries a little too hard to buy the dead man's worthless property.
Working on a hunch and trying to avoid the judge's henchmen, Kam probes deeper into the town's secrets and finds almost no one she can trust. With Mitch's help, she peels away the layers of prejudice, suicide, murder, and insanity. But someone in town doesn't like her poking around, and when they show their intentions by shooting her through the police chief's office window, the stakes are raised. Kam must find out what really happened to her dead relative before someone in this backward little town sends her to join him. And she thought Oregon was going to be boring.
Marva dropped in to answer a few questions. She's also offering a lot of prizes, so leave comment.
After writing mostly fantasy and sci-fi, what inspired you to write a mystery?
You did! When you read the first chapters of one of my YA fantasies, you suggested that I should lead with the chapter that set up the mystery. It never occurred to me that the book really was a mystery. The MC was the amateur sleuth who had to solve the crime, a kidnapping. When I looked at the book that way, I was tempted to have a stab at a real mystery.  The result is "Missing, Assumed Dead."
Where did the idea for this story come from? An event or news clip or something more personal?
I have an obsessive habit of following links. I don't know where this particular chain began, but I found a very interesting true story of an eight-year-old girl who murdered a classmate. While my book ended up entirely different, the idea of involving a child in a brutal murder helped define the plot.
Is your protagonist, Kameron McBride, modeled on someone you know…or pure imagination?
Kam is a bit like me, but more of what I'd like to be than am. I made her a systems analyst, which is a job I've had along with technical writing. I wanted Kam to be somebody who wants to discover the facts, and then come to logical conclusions. I also know what it's like to be a caregiver for a parent. So, yeah, Kam is what I'd like to be.
What the underlying themes of the story?
Like the tagline says: 'Prejudice, murder, insanity, suicide: Every small town has its secrets.' White power groups seem to like eastern Oregon and Idaho. Since these areas also have a fairly large Basque community, I could see the the white extremists going after that segment of the population. Everything revolves around prejudice and the damage it causes.
The mystery includes a romantic element. Do think all stories need an intimate relationship to be fully engaging?
Human interaction is necessary to all stories, even if one or more of the 'humans' happens to be a troll or a merman (male mermaid), which is more typical of my writing. With Missing, Kam has to trust several people. One of them happens to be a good-looking guy, so it'd be hard not to have a romantic element.  For this book, Kam needed a strong, competent guy to help her.  I figured throw the poor girl a bone and let her fall for that guy.
What else would you like readers to know about Missing, Assumed Dead?
The book is primarily a mystery, not a romance.  I also wanted to introduce an area not familiar to many readers. People who live in other parts of the country probably hadn't any idea that eastern Oregon is a desolate and sparsely populated area that harbors white power hate groups. Most people don't know about the Basques and their treatment by Franco and Hitler pre-WWII. I don't want to give away the entire plot, so I'll leave it at that.
You can buy Missing, Assumed Dead here. 
Watch the book trailer.
Check out Marva's other books with Muse It Up.