The fourth book in my Detective Jackson series was the most challenging to write so far. I used parallel structures to tell overlapping stories. In the main story, Jackson investigates the deaths of a slain family. The parallel plot starts six weeks before the murders and tells the family's story, with each victim narrating a POV section, leading up to the murders. Thus the name, Passions of the Dead.
The family's story takes readers right through the final murder scene—just as Jackson puts it all together. Writing that scene from the killer's perspective was the most challenging and disturbing work I've done so far, but readers' reactions to it have been gratifying.
I loved writing this novel, but I worried that readers would find it confusing or would not relate to the victims and their story. That hasn't been the case. First, the novel passed my harshest critic (my husband) with no hesitation, and my beta readers loved it too. So I pressed forward and now the first reviewers are enthusiastic as well.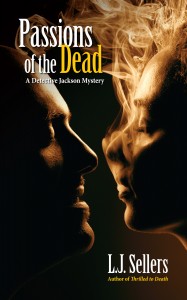 "The latest Detective Jackson mystery will keep you enthralled right up until Sellers hits you over the head with another shocking ending. Put Passions of the Dead on your reading list!"—Susan Whitfield, author of the Logan Hunter mysteries
"L.J. Sellers takes a contemporary news theme and spins a thriller that puts you on the edge of your seat on page one, then keeps you there until the last sentence. Superb!"— The Blood-Red Pencil
"This is another outstanding effort from Sellers and sure to please any police procedural fan."—BookBitch.com
The e-book is only $2.99 and is available from Amazon, Nook, Borders, Apple, etc. For you print book holdouts, I have three advance review copies to give away today. Just post a comment to be entered to win, and/or send me an e=mailso I know how to contact you.
This giveaway is now closed and the winners are: Theresa de Valance, Sandy Olubas, and Robin Cain. Congratulations! For everyone else, thanks for entering. You can still enter to win an e-book of one of my medical thrillers. Just click through on the Thrillers tab, then click Win a E-book.