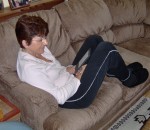 Several readers have e-mailed me and said, "I'd really like to read your e-books, but I don't how… Which inspired me to put together this list:
1. Buy an e-reader: Kindle is the most popular, but there's also the Nook (Barnes & Noble), Kobo (Borders), Sony Pocket Reader, Pandigital Novel, and many more. When you make your choice, think about more than the device and price. Think about the size of bookstore available to you and the size/power/longevity of the company behind the bookstore and device. Prices are way down, so why wait?
2. Download the Kindle to your Mac or PC. With this application you can shop the Kindle store and read Kindle books on your computer or laptop or iPad. This is a great way to try out the Kindle bookstore. (As info: Kindle books are mobi files.)
3. Do you use Firefox? It has a built-in e-reader. Click on the Tools menu and open the ePub-Catelog. You can drag epub files from your computer into the e-reader and peruse them there. (As info: Almost everybody but Amazon uses epub files.)
4. Read on an iPad. You can shop the Apple store directly and buy e-books from it, or download the Kindle application to your iPad. Some readers love reading on the iPad and others say it gives them a headache.
5. If you buy or win a PDF file from an author, you can read it on your computer, laptop, or mobile phone too.
6. Read on your mobile phone with almost any of the other methods mentioned. Some applications will synchronize your place in the book whether you're reading on your phone or e-reader. I haven't tried this yet. 🙂
How do you read e-books? If you haven't tried it yet, what is holding you back?