Believe or not, I'm already writing a new Jackson story, and I'm very excited about this one. I even have a working title, but it's is too early too share. I have an interview set up with an FBI agent, and I'm considering add a new character…who my spin off into her own series someday. (We'll see how I feel in May.)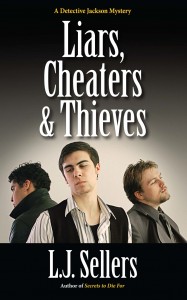 But what I need right now from my faithful readers is your participation again. I need names and lots of them. In my past two novels, I included dozens of the names you suggested, so I hope you've had a chance to pick up the books and see your contributions. One reader contacted me with so much excitement (!!!!) about her name being in Liars, Cheaters & Thieves, I could hear her squealing across the county.
Many of the names I need will be witnesses, neighbors, and victim's family members, so they don't need any special connotations. Just reader friendly.
But one suspect in particular is a white, upperclass male who lost a lot of money in the recession and is very angry about it. Another suspect is a young Hispanic gang member with a lot to prove to his peers.
And of course, I need a name for my female FBI agent…who may be with me for a while. (So this is important, and I reserve the right to change at the last minute.)
Everyone who participates gets a free ebook of their choice, and I'll also pick one or two favorites, who will receive a print book of their choice, or of my latest Jackson book: Liars, Cheaters & Thieves.
It's fun for everyone if you leave your suggestions in the comments, but please also email me with your choice of ebook and file type (mobi or epub).
Thanks again for you help in the past, now let's see what you've got!