I finished the first draft of the fifth Detective Jackson story and it's now in the hands of beta readers. This is the nerve racking part! But the early feedback is great, and my husband loves the first two chapters. This is a very good sign because he's my toughest critic. For those who have been reading the series from the beginning, I wanted to share some background on this story.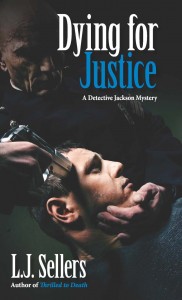 I started outlining it at the beginning of last year (Jan. 2010). At that time, I thought I might give up the series because the second book had a failed launch and I couldn't face another one (which is a whole other story!) I had two more Jackson books written, with one under contract. I thought if I could re-launch the series under a new premise with a new publisher, I might be able to save it. So I mapped out a plot in which Detective Evans was a lead character, with Jackson as a strong secondary character—hoping my readers would stay with the new series.
Then everything changed. My husband and I were laid off our jobs, e-books started to take off, and I re-envisioned my novelist career. (For that whole story, read the blog at this link.) I set this new story aside, rewrote two standalone thrillers I had sitting around, and put them up on Kindle. I went on to self-publish (and promote) four more e-books. That took most of the year.
In October, after launching my fourth Jackson story, my series became a bestseller on Kindle and readers were asking for more.  It was an incredible turnaround, and I'm still amazed by it. In November, I was ready to start writing again. After reading through my outline, I decided I really liked this story and would go ahead and write it.
So…Dying for Justice, the fifth book in the series, features Detective Evans as a major POV character. Evans and Jackson each work their own homicide cases and tell their stories…which of course overlap. Here's the short blurb: Two unsolved murders from the past, a dirty cop, and a painful family connection—will this be the case that breaks Detective Jackson?
I had a blast writing from Evans POV. She's very different from Jackson, and it was liberating to let her out in full action. The book will be released in April. If you want an email letting you know it's available, contact me here. The cover will be posted soon too.
I'm also posting an (unedited) excerpt, if you'd like a teaser. I'm excited about this story and I hope you will be too.