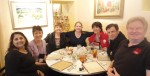 Left Coast Crime in Santa Fe was great this year. I got to meet in person people I've come to know and like online: Peg Brantley, Jodie Renner, Marlyn Beebe, and more. I participated in two panels, Research: Getting It Right, and Publishing: Today and in the Future.
Both were well attended, and I got terrific feedback from the audience. Later, the chairperson for next year's conference (in Sacramento) personally invited me to attend and participate in panels again. I'm honored and may register soon while I'm still motivated.
The most significant thing about this year's conference was that every writer I talked to wanted to discuss digital self-publishing. More and more authors plan to "put up their backlist" on Kindle as it's commonly described, and others are seriously thinking of abandoning their agents, publishers, or the query process in general.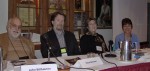 And in my Publishing in the Future panel, nearly every attendee raised their hand when asked if they owned an e-reader. I believe this year will be a tipping point for the publishing industry. It makes me wonder if future conferences will even bother to include panels labeled "Industry Professionals."
This year's panel of publishers, editors, and agents had little new to offer, and one agent became highly offended/combative when asked what value she had to offer a writer who could easily self-publish instead. I wouldn't be surprised if next year's conference offers a panel of freelancers—editors, graphic artists, and e-books formatters—the new industry professionals needed to publish quality e-books.
I believe there's never been a better time to be a writer. What do you think?