Readers are most familiar with my Detective Jackson books, but I also have two standalone thrillers that I wrote before I started the series. I worked for a pharmaceutical magazine for years, so the books have subtle medical themes.  I rewrote them last year to update the stories and give Jackson a small cameo in each.
The seed of an idea that would become The Baby Thief sprouted one evening many years ago while I watched a few minutes of American Gladiator. I thought about how physically fit the winners were and how genetically superior their children would be. Eventually, I connected that idea to fertility science and the plot for The Baby Thief was born.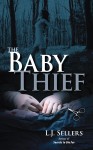 In essence, a woman goes to a fertility clinic, hoping to become artificially inseminated, but the clinic director takes one look at her and decides to steal one of her eggs to create a child of her own. But before she can, the main character, Jenna, meets a charming reporter who stops at nothing to find her when she disappears. Their relationship is a driving factor in the story, so I've recently labeled the book romantic suspense, and it's selling well on Kindle.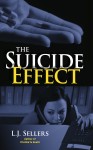 I wrote The Suicide Effect while working for the pharmaceutical magazine, and it reflects my concern that some antidepressant medication actually makes some people feel suicidal! Its structure is similar to a "woman in jeopardy" novel, yet it's so much more. Sula, the protagonist, combats her deepest fears and risks everything to find the truth about the drug in question. Readers have said the ending made them shake in fear, then cry with joy. The Amazon reviews/ratings are terrific for both, and I hope you'll check them out.
I'm currently writing a third standalone thriller. This one features Detective Evans from my Jackson series, only it's set twelve years in the future and she's no longer a cop. She's working as a freelance paramedic and getting ready to enter a national competition called the Gauntlet. Early in the story, she witnesses a crime, which later complicates her ability to compete. And then there's Paul, the government official with access to personal data…
I'm excited about this story, which has a release date of September 7.