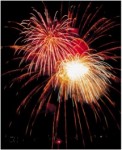 As a thank you to readers who've supported me and made it possible for me to write full time—and in celebration of my birthday—I'm offering all five Detective Jackson books on Kindle and Nook for $.99 for the month of July. If you own another type of reader and want to take advantage of this offer, contact me.
All five stories for the price of a tall latte! If you've already bought my series, thank you! Please tell your friends and family about this great offer. Here's a link to all five on Amazon. And here are brief blurbs for each book. They're standalone stories and can be read in any order….with an average 4.5-star rating on Amazon.
The Sex Club: A dead girl, a ticking bomb, a Bible study that's not what it appears to be, and a detective who won't give up.
Secrets to Die For: A brutal murder, a suspect with a strange story, a missing woman with secrets to hide—can Jackson discover the truth in time to save her?
Thrilled to Death: Two missing women with nothing in common, a dead body, and a suspect who hasn't left his house in a year—Jackson's most puzzling cast yet.
Passions of the Dead: A murdered family, two high-octane suspects, and a deadly home invasion lead Jackson on the most disturbing case of his career.
Dying for Justice: Two unsolved murders from the past, a corrupt cop, and dying man's confession—Can Jackson find the link and stop the rampage?
I'm outlining a new Jackson story (while finishing up The Arranger), and Jackson #6 will be released early next year, likely February. But I'm shooting for the first the year.
If you'd like to be added to mailing list for new releases, click here, and put Add Me in the subject line. I've also added an email subscription sign-up on the right.