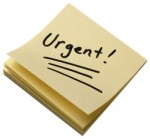 Marketers say consumers need to see/hear your name or product seven times before they decide to buy. Thus we have branding. Getting the name out there, over and over again. Authors should pay attention to this. If you use variations of your name on different social networking sites just for fun, you're not making the most of branding. True story about a friend of mine:
I followed her on Twitter for months (under a different fun name) before I realized she was the same person (author!) I had met in another Yahoo group. Imagine how confused readers  must get sometimes. Branding is most effective if you pick one name and stick with it everywhere. Less fun, admittedly, but we're not in this just for fun. Are we?
Do you use various names on various sites? Is it working for you?