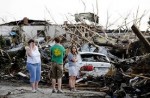 As I watched families pick through the rubble of their homes, looking for shoes for their kids, I felt sickened and helpless. I tried to imagine what it would feel to have lost everything and not have enough money to rent a motel room for the week. So I decided to do what I could. Together with my blog partners at Crime Fiction Collective, we're raising money to help a family in Joplin.
Drew, Judith , and I have pledged 100% our Amazon book royalties (print and digital) through the end of the month to this charitable cause. Author C.J. West has joined us and pledged his e-book royalties too.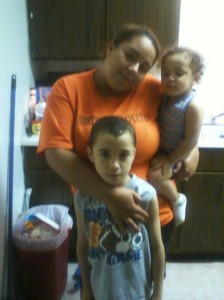 The family we're helping is Francisco and Natasha Rodriguez and their children Zion and Adriana. Natasha is pictured here with the kids. They plan to share the money with other family members Jose, Sabrola, and Fabian Ramierz, who lost their home, cars, and workplace.
The amount of money we raise will be up to readers. We hope you'll take advantage of this opportunity to buy some great books and donate to a good cause at the same time. Here's a list of the participating novels with links to Amazon.
Drew's bestselling title: While the Savage Sleeps
L.J.'s bestselling Detective Jackson mysteries:
The Sex Club
Secrets to Die For
Thrilled to Death
Passions of the Dead
Dying for Justice
And standalone thrillers:
The Baby Thief
The Suicide Effect
Judith's guilty pleasure Skeeter Hughes mysteries:
Where's Billy?
Whose Hand?
C.J. West's thrillers:
The End of Marking Time (A creative, compelling story, L.J. adds)
Taking Stock
Randy Black thrillers:
Sin & Vengeance
A Demon Awaits
Gretchen Green
Another way to help out is to spread the word. Use Facebook, Twitter, or any of your online accounts to let other readers know about this charitable cause.