Today, I'm doing something I rarely ever do and asking readers for their help. The fact that you buy and read my books is truly enough and for that I'm grateful. But I have special circumstances, and if you've read Dying for Justice and liked it, I'd love for you to post a review and rating on Amazon.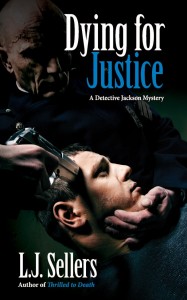 The short weird story is that after 27 reviews—22 of which are 5-star, and 5 are 4-star—a reader posted a one-star review. I wouldn't care except that one-star reviews really hurt a book's Amazon ranking. Immediately after it posted, my ranking dropped, and the book disappeared off the police procedural bestseller list.
This breaks my heart because Dying for Justice is, overall, my best-rated book, and the one that more readers have contacted me to rave about. If the reviewer had posted a legitimate negative comment, I would have simply let it go. But he talked about other writers and novels and never mentioned a thing about my story, until one broad comment near the end that was aimed at me personally. It's also the only book review he's ever posted on Amazon.
I'm hoping enough of you will post positive reviews that mathematically his ranking will be diluted. The reviews don't have to be long, a sentence or two is enough, because clicking a rating will help the most. I also wouldn't mind if you voted down his review as "unhelpful." ☺
I'm not asking anyone to post a review you don't believe in. But many of you have taken the time to write to me about this book, and if you could spend a few more minutes supporting it, I would be very grateful. All I can promise in return is another Jackson story in June. (And more book giveaways on Amazon to come!)
Thanks again for all your support.